Where to eat in Saint Petersburg
St. Petersburg is well known for its exquisite cuisine. Food scene here smoothly blends the historic past with modern vision of classic dishes and it's not about Russian cuisine only. We offer you to consider best dining options from fast-food to luxury restaurants. Enjoy your meal!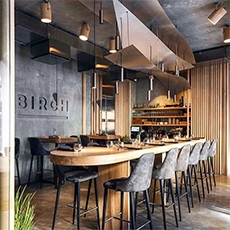 Birch
Birch offers chef menu with dishes that can have an Asian, Latin and any other surprising twist to them. It was founded by four young chefs seeking a modern, relaxed environment to serve affordable yet refined fare and received 2018 Best of Year Winner for Casual Dining from Interior Design magazine. The chefs themselves deliver dishes to customers, adding finishing touches as they serve.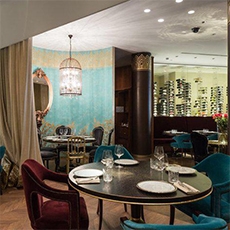 Cococo
Cococo restaurant offers a new view on Russian cuisine. Opened in 2012 it is devoted to working with farmer's and seasonal products from North-West region of Russia. In winter season root vegetables, grains and semi-products are presented in the menu, while in summer and spring there are fresh herbs, vegetables and berries. Restaurant menu has up to 20 dishes changes during the year. Complementing authors cuisine there are Russian character beverages – natural berry morses and kissels, fragrant hot herbal teas and bread kvass. The restaurant's appearance, alike it's cuisine, is modern and undeniably Russian: bright, ethnic and clear.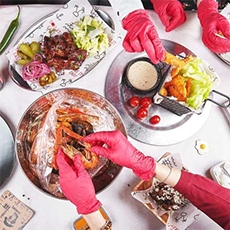 Edim Rukami
St Petersburg welcomes the hottest trend in the world gastronomy - finger food! In Edim Rukami restaurant food is always in your own hands - there's no cutlery at all! Put on an apron and gloves provided by the staff and forget about table manners – get face to face with your food.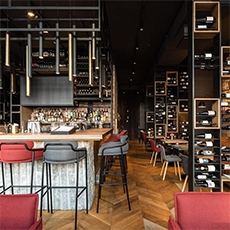 Gastroli
A conceptual restaurant with diverting European cuisine – chef's interpretations of the recipes collected all around the globe. A lot of tapas and appetizers, various tartars and ceviches. Some dishes are baked in Josper. Wide wine list with emphasis on unusual organic and biodynamic wines, classic and signature cocktails.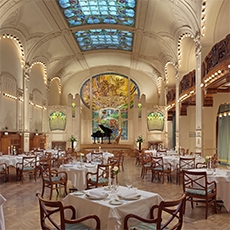 L'Europe Restaurant
L'Europe Restaurant is the one of the oldest restaurants in St. Petersburg, providing classic gourmet experiences. The finest haute cuisine is served in the exquisite Art Nouveau surrounding accompanied by live music. Restaurant L'Europe has won The Superiority Awards in 2008, 2009 and 2010, from the well-known American magazine Wine Spectator for having one of the most impressive wine lists in the world.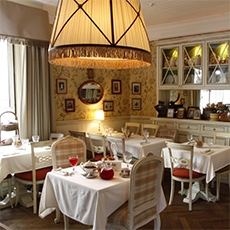 Mari Vanna
Mari Vanna is all about Russian coziness. The restaurant operates in Moscow, London, Baku and New York, however the first one was opened in St. Petersburg 10 years ago. The interior is wrapped in Pavloposadskie shawls and competes nostalgia with retro sideboards and typewriters. Mari Vanna offers a seating area on the balcony, a lower hall and two separate rooms for chamber get- togethers - the Fireplace and the Dining Room.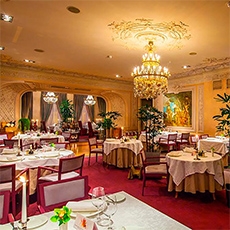 Palkin
Palkin is one of the oldest restaurants in St. Petersburg and one of the few that has kept its original name and location. If you want authentic acquaintance with the cuisine of Russian aristocracy with a taste for the gourmet you are welcome to enjoy dishes that once delighted top society in the imperial city of St. Petersburg. The restaurant's wine list is over 120 vintages, mainly from France, Italy and Chile.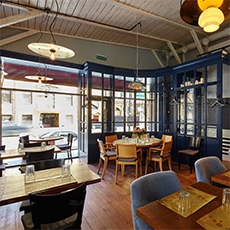 Schengen
Schengen restaurant captures the real spirit of St. Petersburg with its elegant interior and panoramic windows. Menu includes dishes from European and international cuisine, wine list offers a range of aperitifs, digestives and wines from across the world.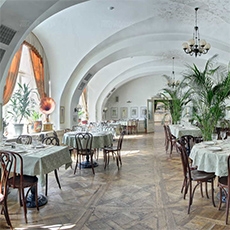 Russian Vodka Room №1
Russian Vodka Room №1 takes you back to the imperial 19th century. The menu is based on dishes of Russian cuisine from different historic periods. Upon its opening in 2008 the restaurant was awarded the Golden Palm (National Foodservice Awards by Leaders Club International) for the best restaurant concept. You'll also find The Russian Vodka Museum there which is an integral part of the restaurant. Its exhibition reveals the details of origin and history of vodka from the 14th century to the present day.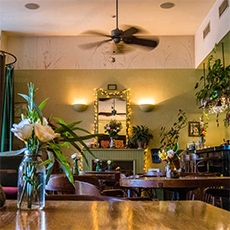 Botanica
Cafe Botanika is the oldest vegetarian restaurant in St. Petersburg. Its international menu includes innovative gourmet dishes based on Ayurvedic principles - a diet for a healthy body and mind. Although it is a small establishment menu consists of over 100 items. There is also a full bar, organic wine and a good assortment of teas and coffees.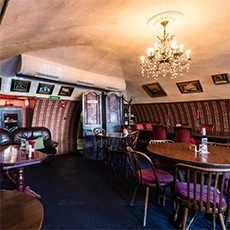 The Idiot
Relaxing home atmosphere of the end of XIX century is the trademark of the restaurant. It offers perfect selection of traditional Russian and vegetarian options, fish and seafood as well as extensive wine and tea lists.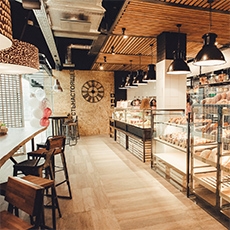 Bushe
Bushe is the coffee house chain specializing in the confectionery and bakery products. They have croissants and all kinds of cakes, light cakes and puddings. Bread comes in all shapes and sizes, with grains and seeds.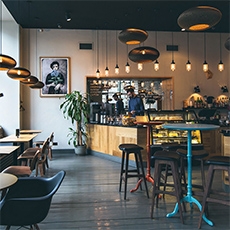 Bonch
Bonch is an ultra-chic café close to the Hermitage and one of the few coffee shops in St. Petersburg which works directly with farmers coffee suppliers. The menu includes several soups, salads, sandwiches and a couple of hot dishes. Always available good selection of desserts, from the most obvious ones like tiramisu and panna cotta to solid chocolate cakes, meringues and cranberry jelly with roasted pistachios. There's also a wide array of breakfast items. Vegetarian options available.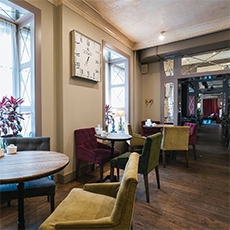 Bize
The network of cafe-pastry shops Bize includes 4 unique places combining a pastry shop, a bakery and a cafe with the best European cuisine. Cafes offer a variety of handmade cakes and pastries, several types of homemade bread and cookies. There are set breakfasts, lunches and dinners. A wide choice of cocktails and several sorts of wine from the renewed bar list will help visitors pass the evening in one of the cozy cafes.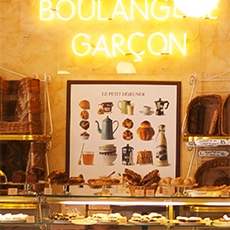 Garcon
The network of cafe-pastry shops Garson consists of ten cafes offering fresh bread, breakfasts, salads, soups, pastries, pastry delights, fresh coffee, Mariage Freres tea and many more.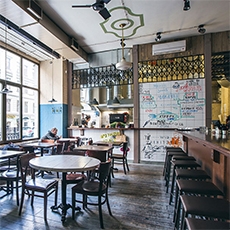 Bekitzer Israeli Street Food Bar
Spacious bar offers street food cooked with national recipes. The owners emphasize that Jewish and Israeli cuisine are not the same thing. The latter has absorbed the cuisines of Iraq, Iran, Egypt, Tunisia, Morocco and Yemen. In the open kitchen real green falafel in a pita, traditional shvarma and about a dozen meze-salads are made. You can also try the dish of the day - it can be marak zanaf (oxtail soup), mafrum (potatoes stuffed with meat, on a pillow of vegetables) or maklubu (rice with meat).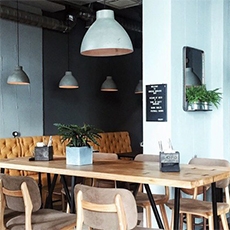 Bureau Burgers and Bar
Chain of five burger shops with unique atmosphere and chef burgers by original recipes with different bread for your choice. Sounds great together with a glass of wine or beer.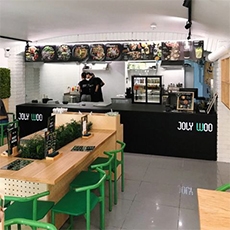 Joly Woo - street food cafe
Joly Woo cafe has declared itself the first Vietnamese street food in the city. In an eco-interior with wooden furniture and moss on the walls, simple snacks like spring rolls, various woks and three types of pho are served here. Vegetarian options available.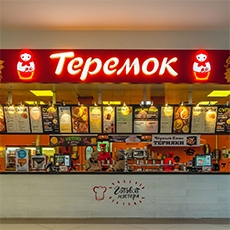 Teremok
Russian fast food café offering blinies with different fillings. The largest network of fast casual segment in Russia serving Russian cuisine.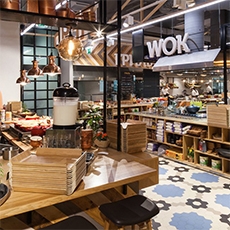 Marketplace
Chain of bistros with an open kitchen, where you can watch cooks prepare dishes from all over the world. All bistros recreate the bustling, aromatic atmosphere of a market, where food is quickly madeand reasonably priced, with the comforts and quality of a high-end restaurant. The food is made from fresh ingredients and restaurants' interiors are constructed only from eco-friendly materials, including wood, ceramic and brick detail.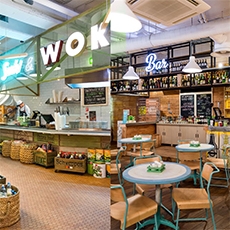 Obed Bufet
Menu of Obed Bufet will suit all tastes as it has more than three hundred fifty popular dishes from all over the world, as well as dozens of original recipes. There's also room for the traditional: the "Russian" Olivier salad, Pozharsky cutlets, American hot dogs and burgers, Italian pizzas and Hungarian goulash. Don't forget the dessert and wine from the tap!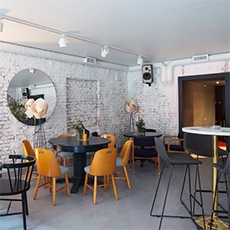 Redrum
Redrum Bar is the flagship bar and headquarters of the leading St. Petersburg craft brewery AF Brew. Strict, but stylish and cozy Scandinavian design, author's bar stand, 24 own and guest cranes, rare, strong and special beer varieties, a fundamentally new level of attitude towards beer and visitors.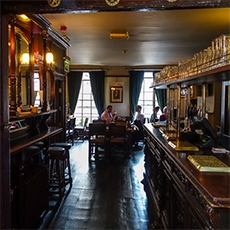 Dickens Pub
Dickens Pub is one of the oldest pubs in St. Petersburg, holding the atmosphere of a classic British pub. It serves 46 draught beer taps, including 7 stouts, about 5 varieties of cider and many local and foreign craft beers. There is a choice of 5 varieties of porter and ales on cask pumps. The menu includes meat and fish dishes on the charcoal grill, choice of steaks and traditional Fish & Chips. There are good selection of appetizers, salads, soups and beer snacks, like garlic bread and pickled eggs.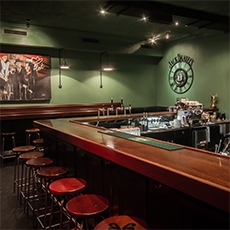 The Hat
The Hat is a classic American jam-set bar from the 1940s-50s. Nightly live jam-session is the specialty. Almost all world jazz stars touring in St. Petersburg visited to The Hat. Among them are Louis Heyes, Steve Grossman, Nino Katamadze, Bill Charlap, Jason Brown, Peter Washington, Joe Farnsworth, Mark Gross, Michelle Walker, Sharon Clark, Omar Torez, Tiger Lillies and many others.