Things to see in Saint Petersburg
Saint Petersburg is not only about architecture and museums, there is a lot to see and discover on a cultural side as well as away from well-known paths. We offer you a compilation of amazing places Saint Petersburg has to offer.
Please note that we would be happy to include any of the listed locations to our City Tour per your request or find you the perfect local guide if you decide to take a closer look at a separate time. Assistance with purchasing theatre tickets is also available.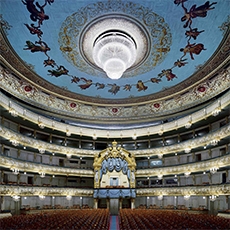 Mariinsky Theater
The Mariinsky Theatre plays a lead role in Russian ballet since its creation in 1859 and still is one of Russia's most famous and loved theaters. It is one of the world's great ballet and opera stages which recently got addition of the newer second stage, the Mariinsky II, which is a state- of-the-art opera house for the 21st century.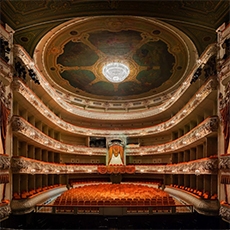 Mikhailovsky Teatre
Mikhailovsky Theatre restored its historic name in 2001 and by 2007 it was again appreciated as one of St. Petersburg's most reputable musical theatres. Mikhailovsky today while safeguarding Russia's old theater traditions is pushing to be at the front line of contemporary theater art. The renovated luxury of the entrance hall and auditorium enables theatre lovers to pass their time in comfort.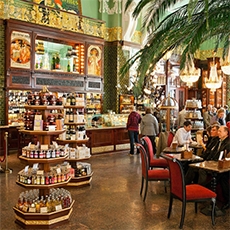 Kupetz Eliseevs Shop
Kupetz Eliseevs Shop in the center of St. Petersburg is the famous oldest Russian deli. It is the most opulent food hall in former Russian Empire which offers fish and meat delicacies, exquisite alcohol, fragrant spices, natural oils and dressings, French desserts from Pastry Chef, handmade chocolate and fresh in-house bakery. Don't miss a sculpture of a tomcat affectionately called Elisey (a short, affectionate form of 'Eliseyev') placed on the building's eaves.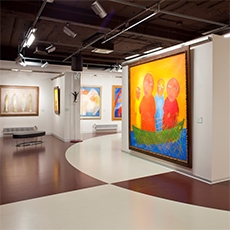 Erarta Museum of Contemporary Art
Erarta Museum is the largest private museum of contemporary art in Russia and holds the collection consisting of 2,800 works of contemporary art created by more than 300 artists from over 20 regions of Russia. It contains paintings, graphics, sculptures, objects, installations and other forms of art representing various generations and trends. Museum also hosts temporary exhibitions and educational programs.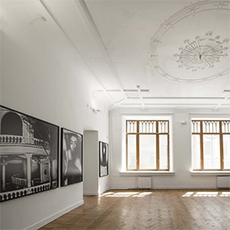 ROSPHOTO - The State Museum and Exhibition Centre for Photography
The State Russian Museum and Exhibition Centre ROSPHOTO, founded in 2002 exhibits works of well recognized national and international photography professionals along with young talented artists working in the genres of contemporary art closely connected with photography: video-art, photographic installations, animation, experimental cinema.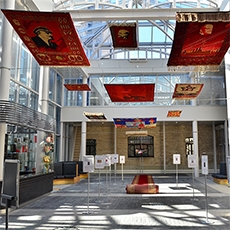 Museum of Political History of Russia
The State Museum of the Political History of Russia is residing in two historic buildings of the XX century: the mansions of the ballerina Matilda​ Kshesinskaya, and baron Brandt. Main expositions are devoted to the relationship between man and the state at the crucial moments in the Russian history. The period of the Revolution and Soviet Era are presented in documents, objects and reconstructed interiors. Museum is full of high technology appliances: touch screens, projections, objects, sounds, voices assisting visitors to travel in time.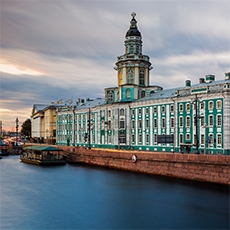 Kunstkamera
Peter the Great Museum of Anthropology and Ethnography (the Kunstkamera) celebrated its 300 anniversary in 2014. It is the first museum in Russia and St Petersburg's oldest museum founded by Peter the Great in 1714 exhibiting one of the richest anthropological and ethnographical collections in the world.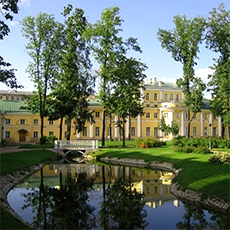 Derzhavin Museum Estate
This grand old St. Petersburg residence on Fontanka River was the home of Gavrila Derzhavin, the court poet and outstanding politician. The museum consists of three wings displaying manuscripts, illustrations, and rare books from the 18th century, journals, furniture, ornaments, paintings, and prints from the late 18th and early 19th centuries. Classical music concerts are held here regularly. Before or after exploring the house, you can take a stroll in the pretty gardens hidden in the back of the mansion with small bridges and miniature canals.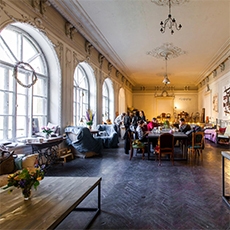 Golitsyn Loft
Golitsyn Loft is a bohemian looking creative cluster made up of five buildings. One of the buildings is an old 18th century mansion that was once the home of the Turgenev brothers, close friends of the great Russian poet Alexander Pushkin. It is a city inside a city consisting of more than a hundred stylish shops, show rooms, cafes, beauty salons and barber shops, tattoo parlors, galleries, restaurants and bars, coffee shops, a theater and even a poetry workshop. Creativity is the correct word to describe the atmosphere in this unique place.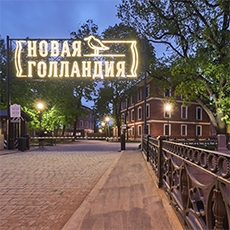 New Holland Island
This military island was closed for the last three centuries and finally opened its doors to the public to become one of the most fashionable places in the city. Lots of activities are happening here with busy events schedule no matter the season. There are summertime concerts, winter time ice skating, art exhibitions, yoga classes, film screenings, restaurants, cafes and shops. It is very kid friendly with a various playgrounds including the one in the form of a historic frigate called Peter and Paul.